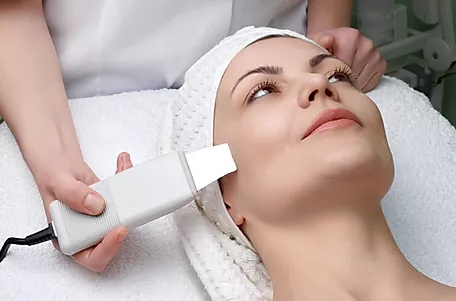 Clinical Facials are a great introduction to establishing and maintaining healthy skin addressing issues such as aging, sun damage, oiliness, discoloration, and dehydration. Our customized treatment begins with a professional skin analysis, followed by a deep pore cleansing using ultrasonic technology, exfoliation, extractions, masking, hydration, and SPF protection.

HydraFacial
What is HydraFacial?

The HydraFacial treatment is a non-invasive treatment that provides instant results for all skin types with no downtime. The HydraFacial is a (30 to 90 minute) treatment that removes dead skin cells and extracts impurities while simultaneously delivering the skin with cleansing, hydrating and moisturizing serums. The treatment is soothing, refreshing, non-irritating and immediately effective.​
Glycolic Acid Peel 20-30% Peel
The Glycolic Acid Peel 20-30% peel penetrates the deeper layers of the epidermis and helps indirectly stimulate cell turnover, increase collagen production, improves skin texture, and decreases fine lines. This is a great lunch time peel. It has little to no downtime and minimal peeling.
The Ultimate Facial
The Ultimate Facial is inpidualized facial designed for your skin type. You will receive a complete skin analysis, a customized exfoliation using the Silk Peel, Glycolic and Dermaplane treatment mask, hydration, and extractions (when appropriate).